Mecadi GmbH – Chemicals/Processing is a worldwide, business-independent operating service provider and manufacturer of the permeation and functional polymer field.
We focus on service in the permeation field, beginning with customer-specific measurements – with a wide-reaching spectrum of possible examining conditions – right up to offers for measuring cells or complete measuring equipment. We provide our customers with the unique combination of know-how in the techniques of permeation rate measurement, macromolecular chemistry, biotechnology as well as membrane / plastic film technologies.
Our functional polymers as a product of innovative research allow adjustments of the chemical characteristics using minimal materials – we develop suitable polymers for the material demands.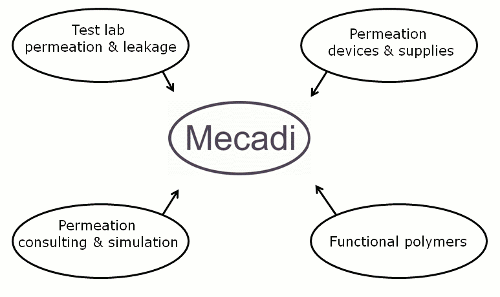 Our service and products increase our partner's performance. We consider the success and satisfaction of our customers as our main task.
Our area of expertise is the measurement of permeation. Our product highlights are the measurement of the permeation of hydrogen and the measurement of the permeation of ammonia. Here is an overview over the permeation measurements.